Green Local Schools will host a "Vax on the Spot" location on our campus Tuesday, September 21 from 12:30-3:30p for those wanting to get a free Covid-19 vaccination. The flyer is below for your reference . Anyone vaccinated under certain care criteria will receive a $100 gift card.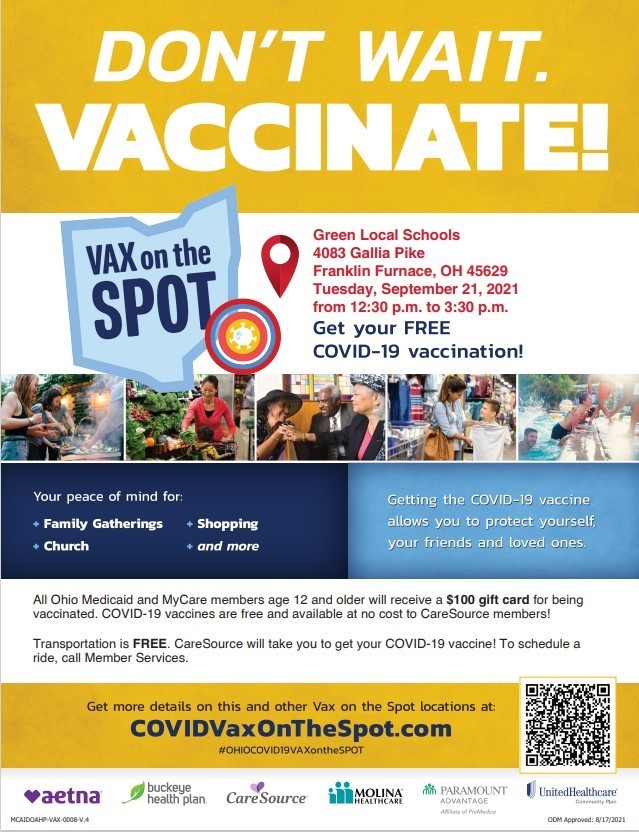 Congratulations to the Green Varsity Golf team. Keifer McCalvin shot a 61 and Landon Kimbler shot a 54 at the Elks Country Club.
Herff Jones was here yesterday, September 7th to distribute class ring packages to Freshmen and Sophomores. Additionally, Herff Jones brought senior packets for cap and gowns, announcements, etc. If you did not receive a packet and would like to place an order, please come to the HS office to get a packet. Herff Jones will be back on Sept 20 during advisory to collect orders. Down payments are due at that time.
Green Local uses the following resources to keep students and families informed. Please update your child's school office immediately if your contact information changes. To see the complete listing of ways to stay in the know, click on the following link --
https://5il.co/yg0d
Here is the information for any junior parent or student who would like to join the Prom Committee meeting this evening. Prom Meeting Wednesday, September 1 · 6:00 – 8:00pm Google Meet joining info Video call link:
https://meet.google.com/wte-qmbb-zhj
Or dial: ‪(US) +1 626-775-7910‬ PIN: ‪375 254 855‬#
Tomorrow's menus: BREAKFAST French Toast Sticks & Milk LUNCH Corndog, Crinkle-Cut French Fries, Apple Nachos (apple slices w/ caramel), Milk
Download The Nutrition Group's app for instant access to menus & nutritional guidelines. Go to your respective "App Store" and search for: 1. Type "Nutrislice" in the App Store's search box & download 2. Once downloaded, type "Green Local Schools-Scioto" in the organization box
Parents/Guardians, Please don't forget to complete your child's FinalForms. This is for K-12 grades. Students in grades 7-12 make sure to sign your forms also. Chromebooks will be issued to students if all forms are signed by both the parent and the student.
Tonight's Regular Monthly Board Meeting has been changed to 4:00 PM in order to coordinate with Open House. Joining information follows: Board Meeting-Regular Monthly Tuesday, August 17 · 4:00 – 5:00pm Google Meet joining info Video call link:
https://meet.google.com/mfm-wiww-dgd
Or dial: ‪(US) +1 915-247-5131‬ PIN: ‪898 445 418‬#
Vaccination Requirements for the 2021-2022 school year.
To All Junior CTC Students: Juniors who will be attending school on Wednesday, August 18, will need to find their OWN transportation to and from Green HS. A bus will be at GHS to take you to the CTC and to bring you back. On Thursday, you will ride the high school route to and from GHS to catch the CTC bus .
Parents, this is a reminder that FinalForms is now open for the new school year and you are now able to sign this year's forms. All students who ride a Green bus, attend class, or participate in a extra-curricular must complete FinalForms. This information is used for many purposes, most importantly, emergency medicals. Thank you for your attention to this matter.
Back-to-School Information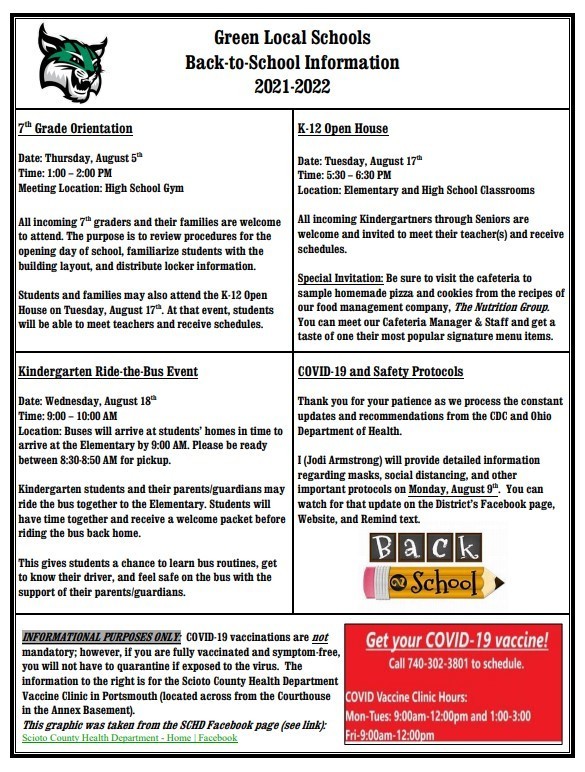 7th Grade Orientation
TO ALL CTC STUDENTS: Please see the attached information regarding the CTC.
This is a reminder that fall sports pictures are next Thursday, August 5, 2021. Attached is the schedule and the price list for pictures. There are order forms in the office that can be picked up by coaches or players.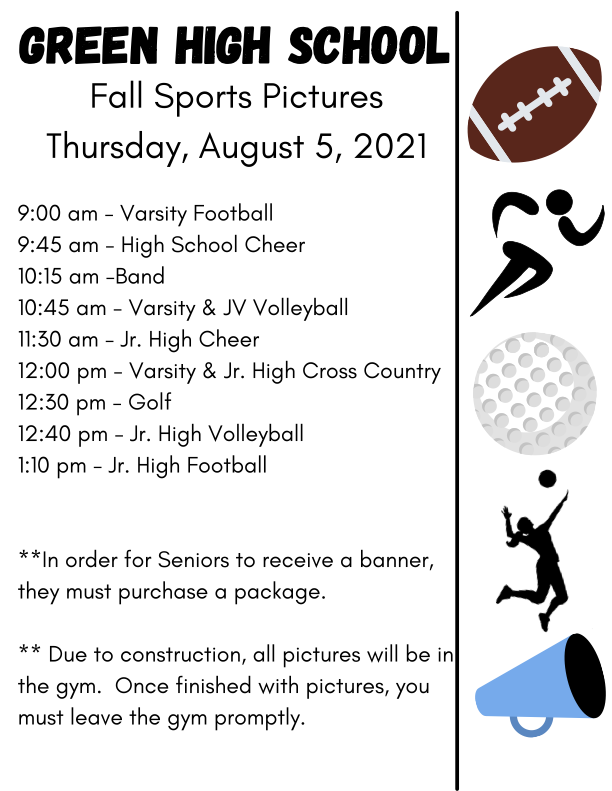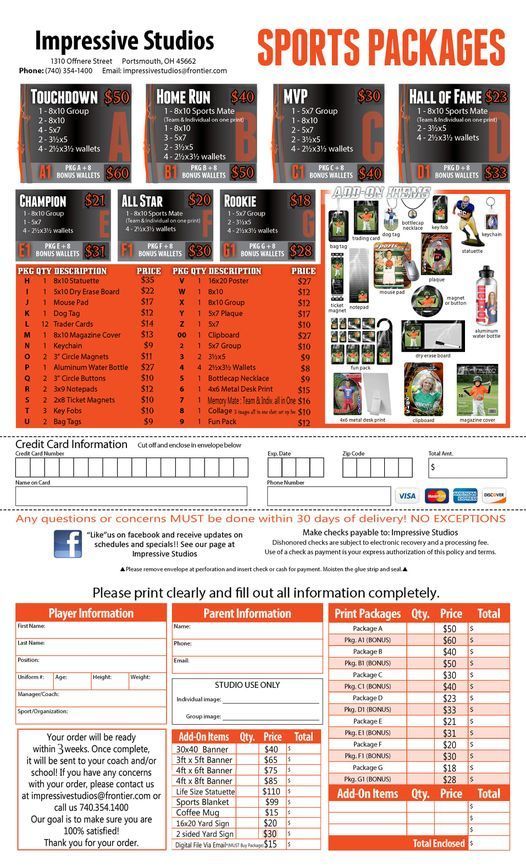 Summer Update: FinalForms is now set up for the 2021-2022 school year. Parents/Guardians, please go in and review the current information, make changes, and sign the forms. This way we have the most up-to-date emergency medical for anyone participating in fall sports and band. Students participating in a fall sport will need to have a current physical on file in the high school office, prior to the first day of the first official practice. If you are unsure if your student needs a physical, check FinalForms. Physical forms can be found under Bobcat Athletics on the website,
www.greenbobcats.org
Instructions for joining tonight's Special Meeting Join by phone ‪1-415-604-0399‬ PIN: ‪969 214 692‬#
Just a reminder that if your student is planning to play a jr. high / high school sport this upcoming school year, they will need an up-dated physical. Check FinalForms for the expiration date of their current physical. SOMC is offering local students a FREE physical until May 31, from 8a - 8p at any of their locations. Also, KDMC is offering FREE physicals to local students. See the attached information. A completed, signed form by the parent is required. Forms can be printed from the website or by stopping at the high school between 8a - 2p until June 4.