If you would like to receive Remind text message updates over the summer, you may join as follows: Send a text to: 81010 With this Message-bobcatupd If you already receive Remind texts, do not join this group or you will receive duplicates of every message. If you would like to be removed from a list, please email (
jarmstrong@greenbobcats.org
) or call Mrs. Vicki at 740-354-9221 to make that request.
Attention Bobcat Dancers! If you will be in grades 9-12 next school year and would like to join the dance team, sign-up in the HS office. If you are a fully remote student at this time, you may call Mrs. Christi at 740-354-9150 by 12:00 on Friday, May 21st, to add your name.
Tonight's regular monthly board meeting has been rescheduled for Tuesday, May 25th, at 5:30 PM in the High School Library. Thank you.
Summer School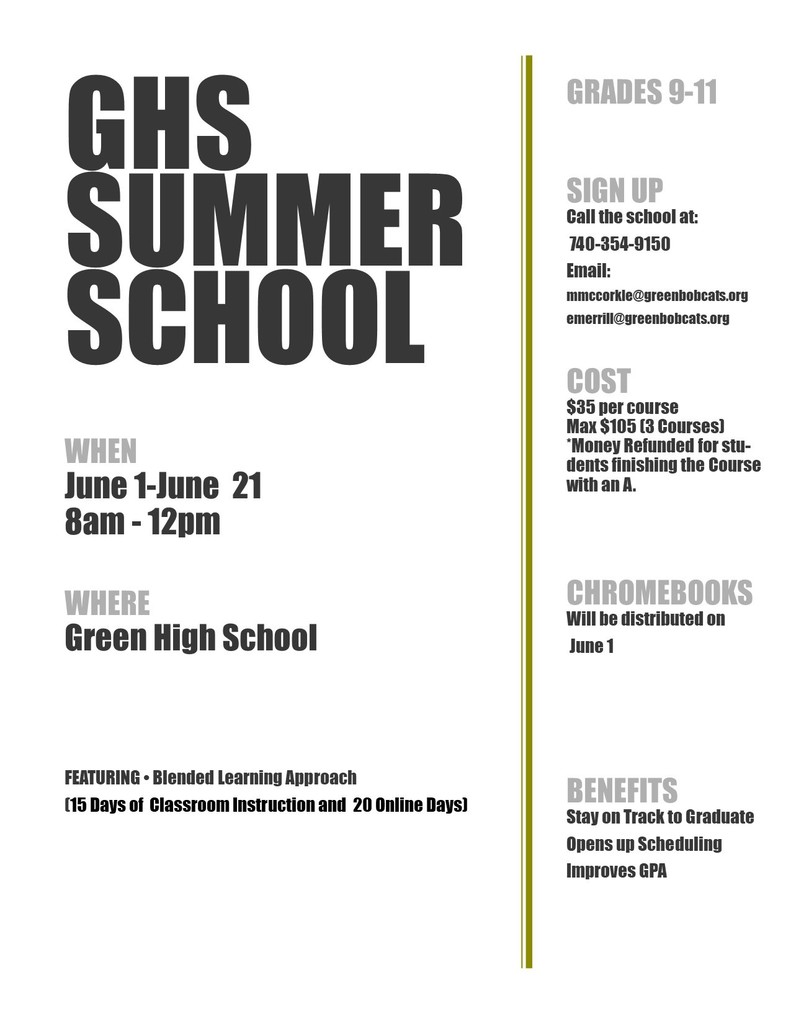 Congratulations to the following Green Varsity Baseball Players for earning all SOC honors. Levi Singleton - 1st Team all SOC Wiley Sanders - 2nd team all SOC
Grades 9-11 final exams are next week and we will be operating under an open-campus schedule. Grades 7 & 8 will still be on the regular school schedule and will not be able to leave the premises for lunch. The Marina Shake Stop has graciously offered our Bobcat students a "Build Your Own $5 Lunch Combo". See the attached flyer for more details. Please note this special deal is only for students and only for a limited time, Monday - Thursday next week.
Tonight's Grand March will be live-streamed on the district's Facebook page (Facebook Live) beginning at 6:00 this evening.
Additional: Preschool students who ride Lisa Dalton's afternoon route will dismiss at 1:15 today with those High Students (Bus 24).
IMPORTANT TRANSPORTATION UPDATE (As per All-Call Message) 1. High School: Lisa Dalton's HIGH SCHOOL afternoon route will dismiss at 1:15. (This includes preschool.) 2. All other High School routes (including the CTC bus) will dismiss on-time. 3. All Elementary routes will dismiss on-time; however... ...Sherry Ratliff & Tommy Jacques will split Freida Otworth's afternoon elem. route. Any students on those 3 routes may be later than usual. If you don't know your driver's name, bus numbers follow for reference: Lisa Dalton-24 Sherry Ratliff-22 Tommy Jacques-26 Freida Otworth-25
Many thanks to Douglas Shoemaker from SSU, Mrs. Riffe, Mrs. Christi, students & parents for a successful FAFSA event!
Jodi Armstrong (Superintendent) and Brodie Merrill (Treasurer) will host a Q & A session regarding the construction project from 2:00-2:45 PM on Friday, April 30th. Joining information follows: Online Link to Join with Video: meet.google.com/tvo-fwka-xkj Call-In Number: 1-484-519-1297 Enter Pin: 186 136 125#
Just a reminder that Green High School will host a FAFSA Education Night on Thursday, April 29th starting at 6p in the cafeteria. For more information go to
https://5il.co/rsvs
.
Congrats to Ethan Huffman on his school record-breaking high jump of 6' 4 1/2"!!! You can watch the video clip on Green's Facebook page.
The Varsity Baseball and Softball games are cancelled this evening. Baseball is rescheduled for May 3 and softball is rescheduled for April 27. Baseball will practice at 3:15ptoday
The link to join tonight's Regular Monthly Board Meeting follows (5:30 PM). Join by phone ‪Dial: 1-802-449-6880‬ Enter PIN: ‪666 223 652‬#
Green High School will be holding a FAFSA informational night on April 29 at 6:00pm in the HS cafeteria for current juniors and seniors. We will provide food and drinks, please plan to attend our informational session for your student's future!
We are inviting band parents to join us for an informational meeting on Monday, April 26th at 6pm in the high school band room. This meeting is to help you and your band students learn about the marching band at Green and to help us plan for the 2021 season. In order to have a successful and positive experience for all students we are in need of parent helpers. If you have any questions please contact Mr. Chaffins at
mchaffins@greenbobcats.org
or (740) 354-9150 ext. 3109.
The varsity baseball game for this evening has been cancelled. Practice will be held at 3:15p.